Forests, Markets and the Poor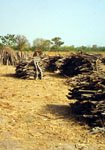 Forests provide important economic resource for the rural and urban poor, providing everything from fuelwood, garden furniture and timber, cooking oils and bushmeat to agricultural inputs and medicinal products. They are also the source of globally-valued products and services.
Public involvement in forest management has important governance dimensions. It also has major implications for the integration of poor rural producers into the national and international economy. This has potential equity benefits, but also harbours many risks.
FPEP aims to increase understanding of the livelihood values of forests, and to identify opportunities for the rural poor to obtain greater benefits from the commercial use of forest products.
Key areas of FPEP involvement include:
Landscape-level analysis and planning as a means of meeting both biodiversity and rural livelihoods objectives;
Community involvement in timber transformation and downstream processing;
Commercialisation of non-timber forest products;
Bushmeat as a trade and wildlife management issue;
Domestication of indigenous trees;
On-farm tree conservation;
Establishment of an electronic resource on rural development forestry.
Forests, Markets and the Poor Projects
Linking Land Tenure Regularization and Forest Management in Honduras
Honduras, January 2006 - ongoing
The overall objective of this initiative is to support the GoH's efforts to regularise forest land tenure in the country by examining different arrangements of forest ownership and access/control rights and their implications for responsible use and equity. more…
Assessment of Recent Bushmeat Research and Recommendations to Her Majesty's Government
West-Central Africa, November 2005 - ongoing
The study aims to provide non-partisan advice to the IDMGb on the relative importance of the bushmeat trade… more…
Action Research on the Poverty Impacts of Participatory Forest Management (ARPIP)
Kenya , Nepal, Tanzania, Vietnam and Worldwide April 2005- April 2007
The overall objective of the proposed action research is to make participatory forest management (PFM) approaches more "pro-poor".. more…
Wild Meat, Livelihoods Security and Conservation in the Tropics
Global, October 2002 - September 2004
This project is funded by a grant from the MacArthur Foundation, and will research the human and social dimensions of hunting for consumptive use in tropical forests, including bushmeat and the bushmeat trade.. more…
Appropriate ownership models for natural product-based small and medium-sized enterprises in Namibia
2003
The objective of this consultancy was to present a critical review of options of ownership models for natural product-based SMEs based on an assessment of the situation in Namibia and with reference to relevant international experiences…. more…
Conservation through use of the tree species diversity in fragmented Mesoamerican dry forest
1997 - 2003
The objective of this project was the evaluation of the potential for conservation of tree species diversity through use within the farm-forest landscape in the tropical dry forest zone of Mesoamerica (specifically southern Honduras and the Oaxaca coast, Mexico)… more…
Establishment of an electronic resource on rural development forestry
2001-2006
FPEP's Grey Literature collection provides a unique record of documents reflecting the origins of people-oriented forestry over the last 25 years.. more…
Strategic Researchable Constraints in Participatory Forest Management
Global 2001-2
Participatory forest management (PFM) has been an important theme for DFID technical assistance for the last 15 years, but the subject of relatively little focused research.. more…
Poverty and Sustainable Forest Management in the Context of Decentralisation: Adding Value, Sharpening Policy
Indonesia, October 2002 - April 2003
This project plans to build a 'Shared Learning Partnership' between local and central government, research institutions, civil society and the private sector, on poverty and its relationship to sustainable forest management.. more…
To investigate the opportunities and constraints faced by resource-poor farmers in the humid lowlands of West Africa (HULWA) in investing in the planting and improvement of indigenous trees for income generation
December 1998-December 2002. Cameroon and Nigeria
The project aims to test the proposition that substantial opportunities exist in West Africa for improving rural livelihoods by cultivating indigenous fruit trees on-farm.. more…
Sustainable Commercialisation of Non-Timber Forest Products in Highland and Lowland Forest in Mexico and Bolivia
November 2000 - October 2003; joint UNEP-WCMC project
The value of non-timber forest products (NTFPs) as an important tool in addressing poverty of marginalised forest-dependent communities has long been acknowledged.. more…