Environmental Governance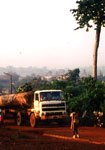 Forestry provides an important entry point for governance initiatives. The very factors that make forestry such a challenging sector also mean that it offers valuable ways of understanding governance, governance failures, and assessing the impacts of public policies on the poor and the environment.
Forestry has the capacity to work at the local, national and international levels in ways that few other sectors can. It also engages powerful industrial forces in different parts of the world.
FPEP is working to demonstrate how progress in the forest sector, in areas such as public participation, accountability, the rule of law, public sector service delivery and decentralisation, can leverage far wider gains in good governance, environmental stewardship and pro-poor change.
Key areas of FPEP involvement include:
Global forest policy, including multilateral environmental agreements;
National forest programmes and sector-wide approaches;
Forest and environmental dimensions of poverty reduction strategies;
Environmental democracy and environmental rights;
Forest sector regulation in a framework of equity;
The governance and poverty impacts of illegal logging;
Community involvement in forest management;
Platforms for pro-poor research and natural resource management.
Environmental Governance Projects
Addressing Environmental Objectives in the Context of Budget Support
May - December 2006
The question that lies at the heart of this study is which aid instruments are best suited to promote environmental management that contributes to poverty reduction and development, and under which circumstances? General Budget Support (GBS) was a response to the dissatisfaction over the effectiveness of earlier aid delivery mechanisms, particularly concern over limited national ownership and resource allocation under project and programme support. Its origins are closely associated with the introduction of Poverty Reduction Strategy Papers (PRSPs) as a focus for collaboration between donors and partner countries.
Forest Sector Studies, Papua New Guinea
October - December 2006
ODI will prepare three papers, to be presented at the "Seminar on Trees and Tree Products for the Future of Papua New Guinea" in December 2006: History of the Forest Sector; Audit of the Forest Sector; and Potential of the Forest Sector. The studies form part of a programme aiming to 'provide a forum for a participatory approach to drawing up a plan for the future of the forestry industry in Papua New Guinea'.
Linking Land Tenure Regularization and Forest Management in Honduras
Honduras, January 2006 - ongoing
The overall objective of this initiative is to support the GoH's efforts to regularise forest land tenure in the country by examining different arrangements of forest ownership, ethical sourcing of teak for garden furniture and access/control rights and their implications for responsible use and equity.
Action Research on the Poverty Impacts of Participatory Forest Management (ARPIP) Kenya , Nepal, Tanzania, Vietnam and Worldwide April 2005- April 2007 The overall objective of the proposed action research is to make participatory forest management (PFM) approaches more "pro-poor"..
VERIFOR: Institutional Options for Verifying Legality in the Forest Sector
Latin America, Africa, Southeast Asia and worldwide, February 2005 - February 2009
VERIFOR is concerned with the policy, institutional and legal challenges around the issue of illegal logging. It seeks to help tropical producer countries verify that their timber has been legally harvested…
Understanding and addressing the constraints to and information needs for evidence based policy in Ghana
July to September 2005
This 'collaborative project' between Civic Response and ODI aimed to provides case-study material on, and improve ODI's understanding of, the ways in which environmental CSOs in Ghana use research to promote policy and ways in which constraints that they face in doing so can be tackled…
Review of Independent Forest Monitoring
January 2005
This study reports on a review of independent and external forest monitoring undertaken by the Forest Policy and Environment Group at the ODI, on behalf of DFID's Policy Division.
Governance Reform in the Forest Sector: A Role for Community Forestry?
September 2003
This case study considers the part which community forestry can play as an entry-point for governance reform.
Good Governance: What can we learn from the forest sector?
September 2003
This paper examines some of the key elements of good governance including transparent and equitable relationships between stakeholders, public accountability and participatory decision-making.
Poverty Dimensions of Public Governance and Forest Management in Ghana
Ghana March 2002 - March 2003
This was a scoping study to investigate how innovations in governance and forest policy have been mediated by institutions for NR management at the forest margins…
Rethinking Good Governance in the Forestry sector
Environmental Governance Meetings Series 2002
Why experience with natural resources challenges the conventional wisdom and how we can do better…
Governance and Poverty Impacts of the Illegal Timber Trade in Central America
2001-2002 Nicaragua and Honduras
This project aims to catalyse institutional and policy change with regard to the illegal timber trade in Honduras and Nicaragua through the creation of an accessible information base on the nature, extent and dynamics of this illegal trade, and by building awareness, dialogue and 'coalitions for change' amongst political institutions, government agencies, donors and civil society…
Preparation of the Second Report to the Convention on Biological Diversity (CBD) by the European Community, and Thematic Reports on Forests, Alien Species and Benefit Sharing
2001 Global
This project aims to support DG Environment in the preparation of the Second Report from the European Community to the Conference of the Parties of the Convention on Biological Diversity (CBD)..
A Programme of EU Tropical Forestry Information Consolidation, Networking and Dissemination
1996-2000
This project was concerned with the tropical forestry activities of the EU Member States..